Febuary 15 2013
April 29, 2013
Friday's 5 · pm opening
The Club has been closed since July 2008 and has undergone a complete refurbishment.
The new premises called the 'The Villagers' is re-opening for trade on the 23rd February
at 7.00pm and the official opening ceremony will follow in due course.
Official opening times will be posted on The Villagers website which is coming soon.
All welcome, please come & visit the new facility which we hope will be a real asset to the village.

- About The Villagers !! - History of the devlopment of Club site


---
May 12, 2013


---

May 7, 2013

- The Villagers !!
Willie Austen - Saturday 18th May - All Welcome

---
April 6, 2013
Milford Car Boot Sale Every Sunday

---
May 10, 2013
Fernhurst Revels - Sunday 19 May
Last year weather and a water-logged Recreation Ground forced us to abandon our original plans and instead join forces with the Jubilee Picnic on the Village Green.
This proved so popular that we are planning something similar this year, a smaller event than in the past without so many trade stalls, but with a range of attractions to keep everyone interested. Fernhurst Revels Homepage
---
March 10, 2013
Lambing Open Day Sunday March 17th 2013. 10am--4:00pm.

Sorry no expectant Mums allowed in the lambing area
- Health warning
Prestwick Farm
Chiddingfold
Surrey GU8 4XP
01428 654695
07966 452256
Our usual favourites of newly born lambs,
straw maze,
bouncy castle,
Big Red Tractor
and yummy homemade cakes at the the tea stall.
All proceeds towards local PROSTATE CANCER fundraising.

Previous Lambing Days
---
January 12 2013
Village Fete will be taking place on Sunday 9 June
The public meetings are : Wednesday 27 February & Wednesday 8 May
Both at 8.00pm CWR, Village Hall. All village organisations are welcome

previous Fetes 2012 2011 2010 2009
Past Village Events Archive
---
Febuary 18 2013
Tuesday, 23 April 2013 is Saint George's Day
Chiddingfold Tipteerers will perform on
Sunday 21 April
---
Febuary 20, 2013
The World Famous Red Sox Saturday 20th April 2013

Theatre Hall Testbourne Community School Micheldever Road Whitchurch Hampshire RG28 7JF (Between Basingstoke & Andover)
a href="music/index.htm">Booking Details
---
January 26, 2013
Snow in Chiddingfold
The days leading up the snow of Friday 18 January 2013 there was lots of weather warnings



Saturday 19 January Chiddingfold Village Pond

Snow scenes in Chiddingfold 2013

---
January 12 2013
Save Alton Town FC
Landlords Molson Coors have given Alton Town Football Club
instruction to vacate the Coors Sports Ground
the club's home for almost 30 years at the end of the season.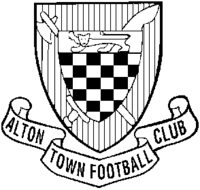 Football has been played on the Anstey Road Sports Ground since 1928, having been the home to the Courage and Bass brewery teams, and Alton Town FC is maintaining that tradition. With a proud FA Cup history, ATFC is playing in the Sydenhams League (Wessex) Premier Division and would need to move to a ground with at least comparable if not better facilities than the Coors site. We are disappointed that Molson Coors have decided on this without making provision for Alton Town Football Club to be relocated. Yes, they have made attempts to achieve this in the past but failed to get planning permission or failed to get Alton Town Council to release land at Diggers (Anstey Park) with a view to gaining planning permission to accommodate a new stadium for us. Surely they (Coors) could have reopened talks with both the Town Council and East Hants District Council in an attempt to find a solution that would not have the distinct possibility of ATFC going out of existence. Alton Town FC is, like many local organisations, a part of the community. Is all this to be lost in haste?
---
September 24, 2012


Chiddingfold Bonfire 2012 Saturday 3rd November
---
July 8, 2012
Chiddingfold Village Hall
9th November - 2pm to 8pm
10th November - 10am to 5pm
11th November - 10am to 4pm

---
November 24, 2011

If anyone phones you up about problems with your computer
Read this
http://forums.moneysavingexpert.com/showthread.php?t=1424731
---
The Air Ambulance service in Kent, Surrey and Sussex costs around £ 3 million annually to stay airborne. Receiving no funding from the Government or the National Lottery the charity is entirely dependent upon the generosity of the public to support the two helicopters, based at Marden and Dunsfold.
October 18, 2011
Two new specialist doctors have joined life-saving charity the Kent, Surrey and Sussex Air Ambulance Dr Magnus Nelson was born in Canterbury, grew up in Wingham and went to Sir Roger Manwoods School in Sandwich. He joins the charity on a six-month secondment from the Royal Sussex County Hospital in Brighton Dr
Mark Salmon joins the trust on a 12-month secondment after also working at St George�s where he qualified in 2003.

More on The Air Ambulance
Surrey Air Ambulance is a charity which relies almost entirely on public donations and receives no National Lottery funding.
The helicopter carries a specialist doctor and Critical Care Paramedic who can carry out advanced medical procedures at the scene, giving patients the best chance and quality of survival.
---
International News
What is happening in the middle East!
---
The Parish Magazine cost 50p.
Copy date 16th every month
except December,when it is 11th.


Articles submitted by email please
to the co-editors:

We�re happy to arrange a postal subscription.
Please contact either of the editors.

Available from Chiddingfold Post Office
---
Help needed at Lunch Club!

Could you help us once a month on a Friday?
We are seeking volunteers to help lay tables, serve and clear away for our over 60's Lunch Club
from 10.30am to about 2pm with lunch included.
It is rewarding and friendly and we are happy to work around the school term times.
You are more than welcome to come and see how we do it all with no obligation.
Just contact Georgia on 68 3120 or email for more details.
---

Thursday 7 March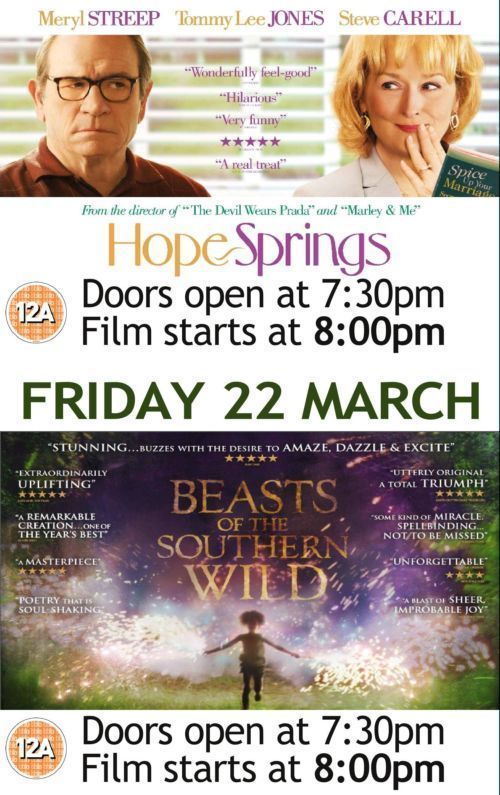 Hope Springs
Doors 7:30pm, film 8:00pm

Running time: approx. 96 minutes (+ 15 minute interval)

BBFC Certification: 12A

Starring Meryl Streep as Kay

Tommy Lee Jones as Arnold
Comedy drama. Kay and Arnold are a devoted couple, but 30 years of marriage have left things a little stale.
In an effort to rekindle a spark to their relationship Kay enrols them both in an intensive week of marriage counselling sessions
Beasts of the Southern Wild
Doors open at 7:30pm, the film starts at 8:00pm

Running time: approx. 90 minutes (+ 15 minute interval)

BBFC Certification: 12A


Critically acclaimed fantasy drama, nominated for 4 Oscars.
In a forgotten but defiant bayou community cut off from the rest of the world by a sprawling levee, an intrepid six-year-old girl copes with her father's illness and an approaching storm with determination and an extraordinary imagination






Next Month
Thursday 4 April (another double-header for Easter)
Wreck It Ralph
Doors open at 5:00pm, the film starts at 5:25pm Running time: approx. 104 minutes (+ 10 minute interval) BBFC Certification: PG
Starring John C. Reilly as Ralph & Sarah Silverman as Vanellope Comedy, nominated for the 'Best Animation' Oscar. A video game villain desperately wants a chance to be the hero and sets out to fulfil his dream, but his quest brings havoc to the whole arcade.
Silver Linings Playbook
Doors open at 7:30pm, the film starts at 8:00pm Running time: approx. 117 minutes (+ 15 minute interval) BBFC Certification: 15
Starring Bradley Cooper as Pat & Jennifer Lawrence as Tiffany Nominated for 8 Oscars: the first film in 31 years to be nominated in every acting category. I don't normally state my opinion here, but in this case I want to. The label 'Romantic Comedy Drama' so often implies something trite, disposable and deeply mediocre. This film is anything but. In less assured hands a storyline involving characters suffering mental illness could be gimmicky and condescending, but with skilful direction and a cast acting their socks off, this is an affecting and joyfully memorable experience. See this film. Go on.

Licensed Bar & refreshments before showing and in interval
A Channel 5 production company came to Chiddingfold Village Hall Cinema on Thursday night, 5 February
to film the Sing-along production of 'Mamma Mia'
The Village Hall Cinema attracted a good crowd from all around Chiddingfold for this performance.
It was a lively evening with lots of singing and even dancing - More
Village Hall
Coxcombe Lane,
Chiddingfold, Surrey GU8 4QA www.chiddingfold-hall.org.uk/
Village Hall
---
December 14, 2011
The Years Between
Shot on location in Chiddingfold in 1945. Based on a successful play by Daphne du Maurier, and starring Michael Redgrave, Valerie Hobson and Flora Robson, The Years Between is a wartime melodrama about a young woman who turns to politics after the reported death in action of her soldier M.P. husband.
---

…and finally
If you do run into debt problems, don't ignore them and hope they will go away - they won't.
Get advice as early as possible. See the Citizens Advice website,
www.adviceguide.org.uk on how to tackle debt, or contact Waverley CAB on 0844 848 7969 for free,
confidential, independent money advice.
www.adviceguide.org.uk
---
I've written many pieces in our Parish magazine about our bells;
at St Mary's Chiddingfold
John

.

By now I hope you appreciate that we have a very special legacy in these bells, and I do hope that the village is a much better place for having them. (It would be a very sad thing to NOT have them surely!)

However, I, and the other bell ringers, are mindful that our ringing is intrusive, (loud).
Despite our best efforts, there are occasions when the music is not at it's best, particularly when practice and learners are involved! Whilst we have some sound-control, the sound of the bells does reach parts that other music does not!

So I am asking the village, and anyone else affected, to let me know your views - More
---
About Chiddingfoldnews.org.uk
New Parish council web site www.chiddingfold-pc.gov.uk/ - &nbsp Click Here
The idea is a local news magazine not in competition with the Parish Magazine
The Parish Magazine.
60p per copy, £7 annual subscription
Copy date 16th every month
except December,when it is 11th.


Articles submitted by email please
to the co-editors:

We�re happy to arrange a postal subscription.
Please contact either of the editors.

Available from Chiddingfold Post Office
Parish council web site
www.chiddingfold-pc.gov.uk/ - Click Here

Neighborhood Policing Local Contact
The Mobile Police Counter will be in Chiddingfold which allows you to access the majority of services available at a police station front counter.
Location The Banking House, The Green,Chiddingfold, Surrey GU8 4TU
A local neighbourhood officer will also be available. More
Don't Panic Chiddingfold does not have
heath / bush fires - Earthquakes - Tsunamis -
Only some parts of the village gets floods
In 1987 the electric was off for 10 days we managed
- More
---
December 3, 2010
For life-threatening emergencies please dial 999.
For immediate help with general local issues please contact the Parish Office:
T: 01428 683906
E: clerk@chiddingfold-pc.gov.uk
For general emergency information, please visit the Waverley Borough Council website -
http://www.waverley.gov.uk

---
To send stories or articles Contact us - see below
Articles preferred as attachments in Rich Text Format &nbsp &nbsp any pictures as separate attachments
Home
News
Music
Contacts
Archive
This Page

Originally what was on at
Chiddingfold Music Club
that web page is just a menu now

For listing music events in the area,
mainly electric rock and blues
for music events

Bands that have been listed here
or are booked in the future
Band details

Contacts is a list of organizations and businesses in the village and phone numbers and e-mail addresses
some web pages

Archive is where the old stories go
Pictures of Events that was news last year