November 19, 2014

About Chiddingfoldnews.org.uk bottom of page
Music Contacts Archive
Police Reports Tipteerers Life Style MOBIL Web

---
Village Hall film show

Friday 21 November

How to Train Your Dragon 2

Cinema details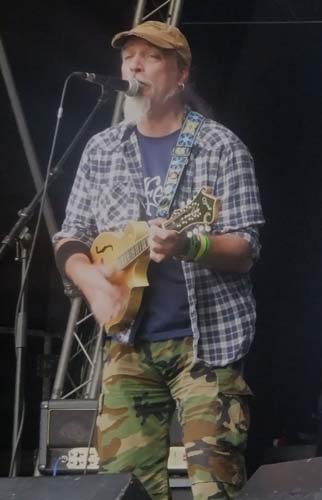 Stevie One Man One Mandolin

---
November 12, 2014

6A Wey Hill, Haslemere,
Surrey GU27 1HN
Phone 01428 643264
fax 01428 643264

New fresh Veg Shop in Haslemere
The Veg Stall will be in Wey Hill Haslemere Every Saturday 8am to 1pm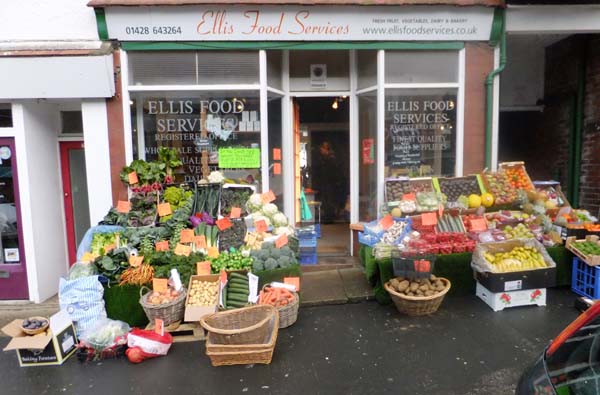 Ellis Food Services of Haslemere are the leading distributor of fresh wholesale produce to restaurants,
hotels, schools, and health care facilities in the south of England.
Our delivery area includes Hampshire, Surrey, and West Sussex.
---
November 19, 2014

To all contributors of the Chiddingfold Parish Magazine.
For those of you that have monthly meetings/events would you please email us your diary dates for 2015.
May we also remind you that the deadline for the January magazine is noon on 12th December, all other months remain the same, 12noon on the 16th, although we are always very grateful for items that arrive early.
We will always acknowledge receipt of your email so if you do not receive an acknowledgement you will know that your email has not reached us.
It is very important that you send any articles for the magazine to both editors, should one of us be on holiday or one of our computers fail, we will still receive your article.
Would you please advise if you are no longer the contact, and or forward to the relevant person. We both look forward to receiving your contributions in the months ahead,
Magazine Details
With best wishes for a Very Happy Christmas.
Anne and Rita Editors, Chiddingfold Parish Magazine
---
October 29, 2014

Chiddingfold Bonfire Saturday 8th November 2014

3:00pm South side of Village Green (by the Spar and the Chemist) road closes. The bus slip road closes.
5:00pm Stalls open for business.
5:00pm Park & Ride shuttle buses start operating. Please note that once the car parks are full we have no further availability.
5:30pm A283 Petworth Road from the junction with Woodside Road to the Crown closes, traffic diverted along Coxcombe Lane
5:30pm North side of the Village Green from Petworth Road to Pockford Road closes, traffic diverted via Pockford Road / Skinner's Lane
6:30pm Torches go on sale at St Mary's School.
7:00pm Procession of 400 torches departs St Mary's School.
7:30pm (approx) Bonfire set alight.
8:00pm (approx) Fireworks
8:30pm (approx) Grand Draw
9.30pm (approx) Last shuttle bus back to car parks
10:00pm (approx) Roads re-open.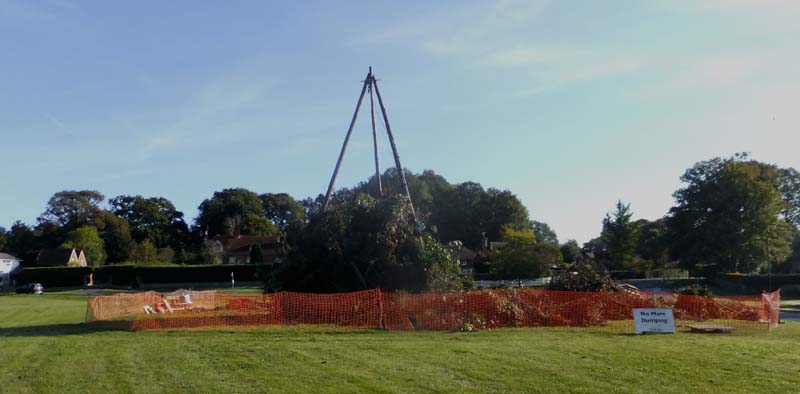 Photo taken 5th October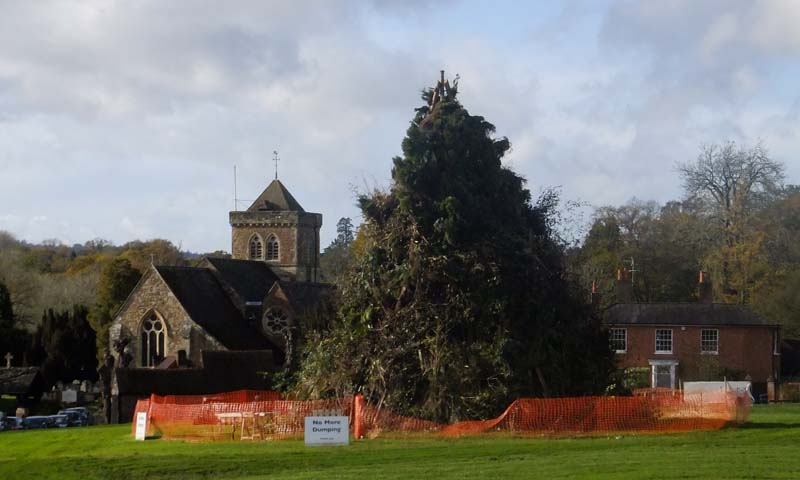 Photo taken November 7th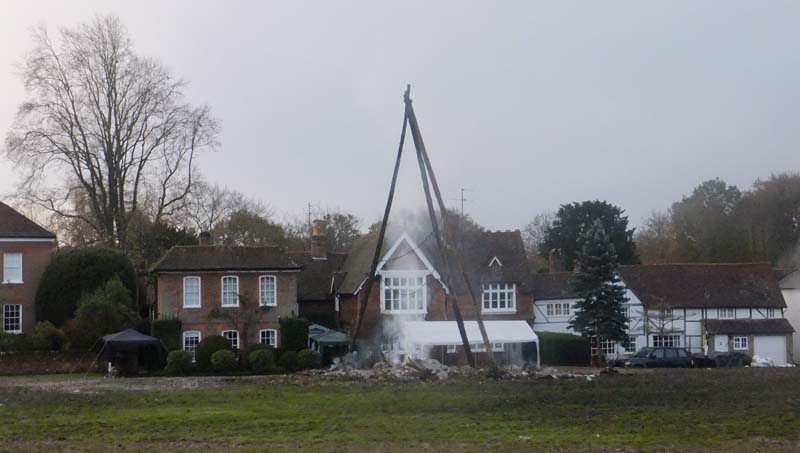 Photo taken 9th November
---

Bonfire 2006 Bonfire 2008 Bonfire 2009 Bonfire 2010 Bonfire 2011 Bonfire 2012 Bonfire 2013 Link to Official bonfire web site
---
2014 October 15, 2014
Chiddingfold Surgery's Macmillan Coffee Morning
Chiddingfold Surgery held a very successful coffee morning on Friday, 26th September 2014 to raise money for the Macmillan Cancer charity.
The event was organised by Dr. Cameron- Blackie and coincided with the annual flu clinic at the practice .So over 100 people attended and £362.00 was raised for this very worthwhile charity.
It was a very social event as well as an informative one, as Michelle Pulman, a Macmillan nurse, attended and was able to talk individually to the patients about the charity.
---
September 26, 2014

Pine Furniture Sale Hammond's Yard Hambledon GU8 5HF
Many more interesting items for sale Every Saturday 9 - 4 01428 68 3625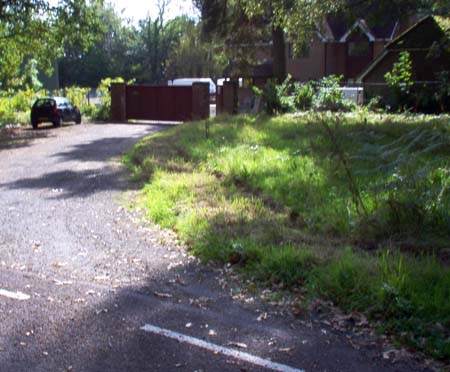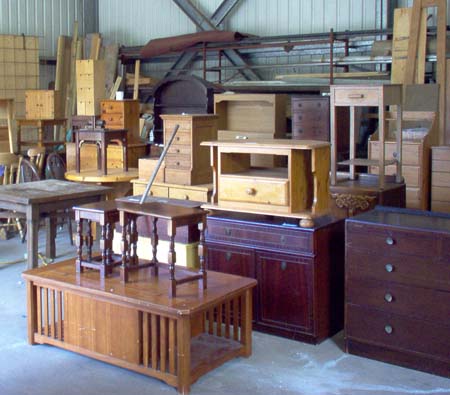 ---
September 28, 2014

The 10th Chiddingfold art & Craft Exhibition
Friday 14th November – 6pm to 9pm (Acceptance of exhibits 3 – 4.pm)
Saturday 15th November - 10am to 5pm
Sunday 16th November 10am to 4pm. (Collection of exhibits 4 – 5pm)
If you wish to exhibit work (of any amateur art or craft) this is open to all Parish residents and members of the Watercolour Group. Forms MUST be completed and delivered by 31st October 2014.
Please pick up a form from the Post Office or request a form from Rob. Last year's exhibitors will receive a form by email. Rob Terry 01428 682022 For aplication form or as PDF
Past Exhibitions 2009 2010 20112013 Water Colour Group

October 30, 2014

Motorists Warned of Roadside Petrol Scam
Surrey Police is warning motorists to remain vigilant following a recent spate of people being conned into giving money for petrolwith the suspects pretending to be drivers in need.
The first incident was reported to police on Thursday, 6 November. The victim, a 64-year-old man from Walton-on-Thames, had been driving along Lammas Lane, Esher, at around 2.15pm when he was flagged down by the suspects stating they needed cash for fuel. He gave them £20 cash in exchange for three gold rings and the suspects promised to repay the money and gave the victim a business card.
The rings have since been established as being worthless and the business card fake.
The two suspects have been described as being smartly dressed, dark skinned, possibly of Arabic origin, having a large build and being around 40 to 50 years old. Their vehicle is believed to be a black Mercedes saloon car. Two further incidents took place on Saturday, 15 November between 9.45am and 10.10am.
One victim, a 54-year-old man from Byfleet, stopped to assist a man who flagged him down at the slip road of the A3 by the Cobham roundabout. The suspect said he needed petrol to get to Glasgow and offered the victim some rings.
The victim declined the rings but drove to the Sainsbury's petrol station in Cobham whilst the suspect followed in his car. It is believed that the suspect had four passengers in his vehicle.
Having arrived at the petrol station the victim handed the suspect £240 for fuel. The suspect took the victim's mobile phone number, gave him a business card which was later established as fake, and promised to contact the victim to repay the money when he reached his destination. He then got back in his vehicle and left the scene.
The suspect has been described as having an Asian appearance, being around 40 to 45 years old and having a stocky build. He had a moustache and short, dark well-kept hair. He was wearing a white shirt and dark coloured trousers and tie. It is possible that he understood Arabic.
The other men in the suspect's car, which is believed to be a Mitsubishi, have been described as being of a smart appearance and of similar ethnicity to the suspect.
The other victim, a 58 year old man from Farnborough, was flagged down by two men who also stated that no money to get to Glasgow and offered to sell him gold jewellery for £250. The incident took place on the A316.
The suspects have been described as being Asian or Eastern European and having foreign accents. It is believed they were driving a dark blue Saab.
They followed the victim to the BP petrol station on Staines Road East,which is adjacent to Kempton Park in Sunbury, where the victim withdrew £250 for the suspects.
Investigating officerPolice Constable Dave Atkinson, said: "These are despicable offences where innocent people have had their goodwill taken advantage and they have been conned out of money by bogus motorists in need when stopping to help.
"I urge anyone who comes across people acting suspiciously at the roadside or trying to flag passing motorists down for assistance to call 101.
"Similarly, there is a strong possibility that these crimes may be linked and other incidents may have taken place in other parts of the county. Anyone who has been offered jewellery in exchange for money for petrol should contact Surrey Police. Any information, no matter how small it may seem, could prove vital to the investigation and bring those responsible to justice." Anyone who has information is urged to contact Surrey Police either by using our online reporting system found at http://www.surrey.police.uk/ or calling 101 quoting reference 45140096483. Alternatively Crimestoppers can be contacted anonymously on 0800 555 111.
October 16, 2014

A potential scam we have just been alerted to, please be aware and pass for information to friends and family
. "
We could not process the payment for your latest TalkTalk bill. Your billing information is either incomplete or out of date
. Your service is scheduled for disconnection on 15 October 2014. To continue using your service uninterrupted please update your billing information. Click here to update your billing information now. Thank you for being a TalkTalk customer!" The TalkTalk Team
This person has never been with Talk Talk and knew nothing about this. Some people that are, may click on this and think it is genuine so please advise anyone to check directly with Talk Talk if they do receive a message like this, and never click on any link.
October 15, 2014

Witness appeal after fatal collision on M3 near Sunbury
Surrey Police is appealing for witnesses after a young woman died following a collision and resulting car fire on the M3 motorway this evening.
The incident took place on the northbound carriageway between junctions 2 and 1 near Sunbury at around 11.18pm when a Vauxhall Zafira collided with a Toyota IQ2 which subsequently caught alight.
Emergency services attended the scene where the woman driver of the Toyota had suffered life threatening injuries. She was taken to St George's Hospital in Tooting where she sadly later died.
The driver and passenger in the Vauxhall, a man and a woman, suffered minor injuries in the collision and were taken to St Peter's Hospital in Chertsey.
The motorway was closed in both directions while emergency services dealt with the incident. The southbound carriageway has been fully reopened but the northbound carriageway remains shut at this time while an investigation is carried out.
Officers are appealing for anyone who may have witnessed the collision or the events leading up to it to come forward. Anyone with information is asked to call the Surrey Police Collision Investigation Unit on 101 or 01483 639922 quoting reference p14293114.
October 15, 2014

Dog left with injuries after being struck with stick in Hambledon
Police are appealing for witnesses after a border collie was injured with a stick whilst out with his dog walker.
The incident occurred on a footpath in fields behind St Peter's Church Lane, Hambledon at around 2pm on Friday 19 September.
The dog walker was walking several dogs along the path when a male jogger approached carrying a stick. The border collie went up to the jogger and was struck with the stick causing an injury to his eye. The jogger then left the scene.
Officers are keen to identify the jogger and speak to anyone who was in the area at the time to understand the full circumstances of what happened.
The jogger is described as a white man, aged between 40 and 50-years-old, around 6ft tall and of a stocky build. He had greying hair described as being "salt and pepper" colouring and was wearing a white t-shirt and blue jogging trousers. He spoke with a local accent and it is believed he is left handed.
Investigating Officer PC Neil Winter said: "The dog suffered a nasty injury and I am urging anyone who may have seen the incident, recognises the man from the description or witnessed the events leading up to the offence to contact us as soon as possible."
Anyone with information is asked to call Surrey Police on 101 quoting reference 45140079169 or by using the online reporting system found at http://www.surrey.police.uk/. Alternatively the independent charity Crime Stoppers can be contacted anonymously on 0800 555 111.
September 22, 2014

Attempt theft of cash point machine from village store in Elstead
A village store in Elstead was targeted by thieves this morning (Monday, 22 September) when an attempt to steal a cash point machine was made.
The incident happened when three men forced their way into The Spar store on The Green, Elstead at around 4.30am and attached straps to the stand alone cash facility. The suspects then connected the straps to a silver and maroon Mitsubishi Shogun and tried to get away with the machine. The straps snapped and the offenders, who all had their faces covered and wore gloves, made off in the vehicle.
As a result of the failed smash and grab, one of the doors at the store was ripped off its hinges.
Detectives in Waverley are appealing for anyone who may have seen the Mitsubishi in or around the vicinity of the offence. DC Mike Taylor investigating said: "This was an audacious attempt to steal a cash machine and I am hoping there may be someone who may have seen the suspects and the vehicle involved – maybe someone out on a milk round or a shift worker on their way home might have seen something which struck them as suspicious.
Please call Surrey Police with information." Neighbourhood Inspector Tom Budd said: "This offence will come as a shock to the community and will mean that a much used facility is out of action causing hardship for customers and the shop itself. Residents can be assured that officers are doing everything possible to locate the offenders and bring them to justice." A vehicle believed to be the one involved in the offence has since been recovered in the Hartley Witney area of Berkshire. Anyone with information is asked to call Surrey Police on 101 quoting reference 45140079811 or by using the online reporting system found at http://www.surrey.police.uk/. Alternatively the independent charity Crimestoppers can be contacted anonymously on 0800 555 111.
---
July 15, 2014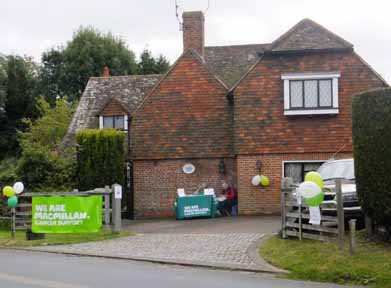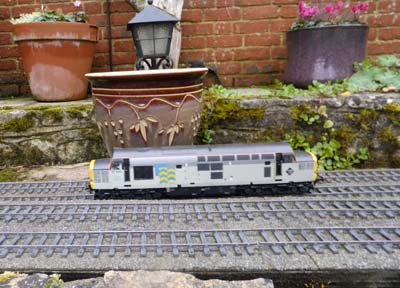 Ted's Garden Open Day
Garden Railway and Models Sunday 27 July 2014
12 noon to 4pm
Coxcombe Cottage, Woodside Road, Chiddingfold, GU8 4QD.
Entrance Includes Tea and Cake.
£5 Adults £2 Children

Proceeds shared between St Mary's Church Chiddingfold and Macmillian Cancer Support, Midhurst

Please note if raining it will be postponed until Sunday 29 September

---
---
July 16, 2014

Broadwater School supports Surrey Police's zero tolerance policy on drugs
Students arriving for lessons at Broadwater School yesterday (Thursday 10 July) were met by a team of officers from Surrey Police with a passive drugs dog. The officers were carrying out a joint operation with the co-operation of the head teacher Chris Lee and the school governors from the secondary school in Summers Road, Farncombe, to ensure that drugs were not being brought into school. police.
More
---
May 20, 2014

CHIDDINGFOLD VILLAGE FÊTE SUNDAY 8th JUNE 12.00pm TO 4.30pm
previous Fetes 2012 2011 2010 2009
Past Village Events Archive
June 22, 2014

Bring all the family Have fun, and support this village event ALL PROCEEDS TO LOCAL AMENITIES St Mary's School, Chiddingfold Village Nursery School, Chiddingfold Village Hall and Chiddingfold Community Fund
Snail Racing, Skittle Alley, Bouncy Slide, Gardens Open, Teas, Bottle Tombola, Bric a brac, Samosas, Books, ............
Photos Programe of events List of raffle prizes
---
---
May 13, 2014
Face painting,
Fun dog show,
Model train rides,
Children's races and games,
Face painting,
Plants, herbs,
Cakes,
Tea tent,
Tombola,
Silent raffle,
Quizzes,
Competitions,
Fire engine and police car
- provided circumstances permit!-
Bouncy castle,
Books and bric-a-brac
Fernhurst Revels Sunday May 18th
The tradition is that the May Queen procesion to arrives at the Recreation Ground at 12.30
accompanied by her attendants, Heralds, music, Crown Bearers, Flower Scatterers
and the fancy dress entrants on the theme of The Enchanted Wood
Being crowned at approximately 1.00 pm the May Queen, Rose Buchanan,
will watch as St George kills, we hope, the Dragon,
children dance round the Maypole and the Revels commences.
Free entry free parking
For more information ring 01428 653790
Offical website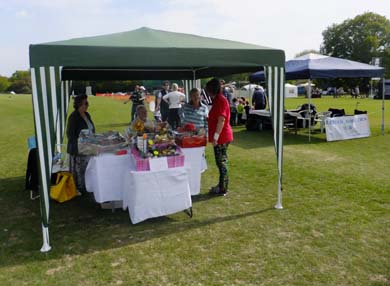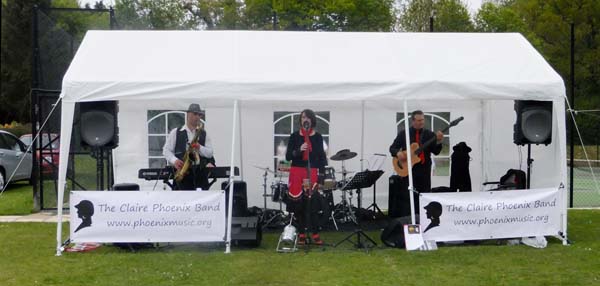 Pictures from 2013
Start 9 am
Milford Car Boot Sale
---
March 3, 2014

Plaistow Pre-School Maypole Fete Monday 5th May 12pm-3pm
Plaistow Village Green, RH14 0PX
Traditional Village Fete in aid of Plaistow Pre-School
Photos
---
November 10, 2014
Several of the films coming up may be in high demand, so please remember if you want to guarantee your seats for the screening, go to Chiddingfold Post Office to purchase your tickets in advance, and be sure to arrive promptly to ensure you get first pick of the available seats. YOU CAN SAVE MONEY WITH OUR SEASON TICKETS.

Friday 21 November

How to Train Your Dragon 2




Doors 6·00pm, Film 7 ·30pm

Running time: approx. 98 minutes (+ 15 minute interval)

BBFC Certification: PG

Sequel to the charming animated original. Five years on and dragons are now part of life for the vikings of Berk – as pets, companions, modes of transport and occasional fire-lighters.
Hiccup and Toothless are restless, however, and spend long hours exploring distant islands.
On one trip they find not just a new world but a new threat and an old ally.

How to Train Your Dragon 2 Film Details
---
Tickets for each film cost £5 (£3 for children under 15) on the door,
or in advance from Chiddingfold Post Office.
Season Tickets are also available from both locations.
Next Month:
On Saturday 6 December Chiddingfold Cinema presents: **Singalong Sound of Music**
Doors open at 6:00pm, the programme starts from 6:30pm Finish time: approx. 10:30pm BBFC Certification: U Polish your cowbells, warm-up those "Do-Re-Mis" and join us for a special event screening of the much-loved classic musical. We have a digitally restored version of the film featuring high-definition sound and hard-coded singalong subtitles. There will be warming vats of gluhwein and hot chocolate, locally sourced beers and Austrian-inspired cakes to get you in the party spirit and ready to join in full chorus. Not only that we have a costume competition, so break out those dirndls, lederhosen, hats with feathers and nuns' habits, or even think outside the box (or should that be 'brown paper package tied up with string'?): maybe there are some old curtains you could use for inspiration?
Tickets cost £15 (£10 for children under 15) and include a free drink on arrival. They can be purchased in advance from Chiddingfold Post Office or via our brand new website. They are also on sale at the box office of our regular screenings. Save £5 with a Season Ticket. Season Tickets can be used to obtain a discount – we simply stamp three slots rather than the usual one, so a pair of ticket costs just £25. If you don't already have one (and why not?!) then buy one now and take advantage of the £5 saving immediately. We expect demand to be high, so book now to avoid disappointment! For further details, especially any advance ticket enquiries or if you are interested in joining us as a volunteer, please contact Matthew Lacey on 01428 683120, or email cinema.admin@chiddingfold-hall.org.uk That's all for now, hope to see you at a screening soon!
Tickets for each film, (except 'Pay What You Like') cost £5 (£3 for children under 15) on the door, or in advance from Chiddingfold Post Office.
Season Tickets are also available from both locations.

Licensed Bar & refreshments before showing and in interval
A Channel 5 production company came to Chiddingfold Village Hall Cinema on Thursday night, 5 February
to film the Sing-along production of 'Mamma Mia'
The Village Hall Cinema attracted a good crowd from all around Chiddingfold for this performance.
It was a lively evening with lots of singing and even dancing - More
Village Hall
Coxcombe Lane,
Chiddingfold, Surrey GU8 4QA www.chiddingfold-hall.org.uk/
Village Hall
---
November 24, 2011

If anyone phones you up about problems with your computer
Read this
http://forums.moneysavingexpert.com/showthread.php?t=1424731
---
The Air Ambulance service in Kent, Surrey and Sussex costs around £ 3 million annually to stay airborne. Receiving no funding from the Government or the National Lottery the charity is entirely dependent upon the generosity of the public to support the two helicopters, based at Marden and Dunsfold.
October 18, 2011
Two new specialist doctors have joined life-saving charity the Kent, Surrey and Sussex Air Ambulance Dr Magnus Nelson was born in Canterbury, grew up in Wingham and went to Sir Roger Manwoods School in Sandwich. He joins the charity on a six-month secondment from the Royal Sussex County Hospital in Brighton Dr
Mark Salmon joins the trust on a 12-month secondment after also working at St George's where he qualified in 2003.

More on The Air Ambulance
Surrey Air Ambulance is a charity which relies almost entirely on public donations and receives no National Lottery funding.
The helicopter carries a specialist doctor and Critical Care Paramedic who can carry out advanced medical procedures at the scene, giving patients the best chance and quality of survival.
---
International News
What is happening in the middle East!
---
Help needed at Lunch Club!

Could you help us once a month on a Friday?
We are seeking volunteers to help lay tables, serve and clear away for our over 60's Lunch Club
from 10.30am to about 2pm with lunch included.
It is rewarding and friendly and we are happy to work around the school term times.
You are more than welcome to come and see how we do it all with no obligation.
Just contact Georgia on 68 3120 or email for more details.
---

…and finally
If you do run into debt problems, don't ignore them and hope they will go away - they won't.
Get advice as early as possible. See the Citizens Advice website,
www.adviceguide.org.uk on how to tackle debt, or contact Waverley CAB on 0844 848 7969 for free,
confidential, independent money advice.
www.adviceguide.org.uk
---
I've written many pieces in our Parish magazine about our bells;
at St Mary's Chiddingfold
John

.

By now I hope you appreciate that we have a very special legacy in these bells, and I do hope that the village is a much better place for having them. (It would be a very sad thing to NOT have them surely!)

However, I, and the other bell ringers, are mindful that our ringing is intrusive, (loud).
Despite our best efforts, there are occasions when the music is not at it's best, particularly when practice and learners are involved! Whilst we have some sound-control, the sound of the bells does reach parts that other music does not!

So I am asking the village, and anyone else affected, to let me know your views - More
---
About Chiddingfoldnews.org.uk
New Parish council web site www.chiddingfold-pc.gov.uk/ - Click Here
The idea is a local news magazine not in competition with the Parish Magazine
Parish Magazine
The Parish Magazine.
60p per copy, £7 annual subscription
Copy date 16th every month
except December,when it is 11th.
Parish Magazine
Parish council web site
www.chiddingfold-pc.gov.uk/ - Click Here

Neighborhood Policing Local Contact

The Mobile Police Counter will be in Chiddingfold which allows you to access the majority of services available at a police station front counter.
Location The Banking House, The Green,Chiddingfold, Surrey GU8 4TU
A local neighbourhood officer will also be available. More
Don't Panic Chiddingfold does not have
heath / bush fires - Earthquakes - Tsunamis -
Only some parts of the village gets floods
In 1987 the electric was off for 10 days we managed
- More
---
December 3, 2010
For life-threatening emergencies please dial 999.
For immediate help with general local issues please contact the Parish Office:
T: 01428 683906
E: clerk@chiddingfold-pc.gov.uk
For general emergency information, please visit the Waverley Borough Council website -
http://www.waverley.gov.uk

---
To send stories or articles Contact us - see below
Articles preferred as attachments in Rich Text Format &nbsp &nbsp any pictures as separate attachments
Home
News
Music
Contacts
Archive
This Page

Originally what was on at
Chiddingfold Music Club
that web page is just a menu now

For listing music events in the area,
mainly electric rock and blues
for music events

Bands that have been listed here
or are booked in the future
Band details

Contacts is a list of organizations and businesses in the village and phone numbers and e-mail addresses
some web pages

Archive is where the old stories go
Pictures of Events that was news last year