About Chiddingfoldnews.org.uk bottom of page
Music Contacts Archive Jobs
Police Reports Tipteerers Life Style MOBIL Web



London & South East England: Amber warning of wind

Issued at: 10·36 on Sun 7 Feb 2016
Valid from: 03·00 on Mon 8 Feb 2016
Valid to: 18·00 on Mon 8 Feb 2016 An area of very strong winds is likely to extend east across southwest England and parts of central southern England on Monday morning.
Gusts of 60-70 mph are likely widely, with 80 mph gusts in exposed coastal areas, particularly Cornwall and North Devon, and also through the Bristol Channel.
Some very large waves are also likely to affect many coasts, in particular north coasts of Cornwall and Devon.
Winds should gradually ease through the afternoon and evening.
Please be prepared for disruption to travel as well as possible damage to trees and structures, and interruption of power supplies. . - More
Contains public sector information licensed under the Open Government Licence v1.0
*************************************************************************
---
Village Hall film show

Thursday, Feb 19th

7·30pm


Double Bill


RUSSIA NIGHT

---
Coming Next

Brooklyn
Thurs Mar 3rd 8:00 pm
Cert 12A

Cinema details

Proposed changes to local bus services – public consultation launches
Mike Goodman
Cabinet Member for Environment and Planning
County Councillor for Bagshot, Windlesham & Chobham
Details Pdf 436 KB
Proposed changes to local bus services:
Have your say by Monday 14 March 2016 I wrote last July setting out a number of changes to local bus services in Surrey. These came into effect from late August 2015. Our plans were drawn up following two widespread public consultations in which thousands of residents and stakeholders had their say. These changes delivered vital savings as part of the council's Local Transport Review. However further savings are required over the next two years to ensure we can maintain as many of the services as possible that people in Surrey rely upon.
Some changes are now being proposed in year two of the review to a number of local bus services in Surrey, and a public consultation will launch tomorrow, giving residents the chance to have their say on the proposals. The consultation will run until Monday 14 March 2016. Full details of the proposed changes including details of alternative services where available can be found in the attached document. Please note, if a bus service is not listed within the document, no changes are proposed by Surrey County Council for 2016.
Residents can have their say by completing the questionnaire online at surreycc.gov.uk/transportreview. Paper questionnaires are available in Surrey libraries and local council offices, and residents can request a copy sent straight to their door by calling 0300 200 1003 (SMS: 07527 182 861).
On 24 May 2016 the final proposals that will be drawn up following the consultation will be considered by Cabinet.
Any agreed changes to bus services will be communicated to residents and stakeholders from June 2016, with the changes coming into effect from early September 2016.
---
January 3, 2016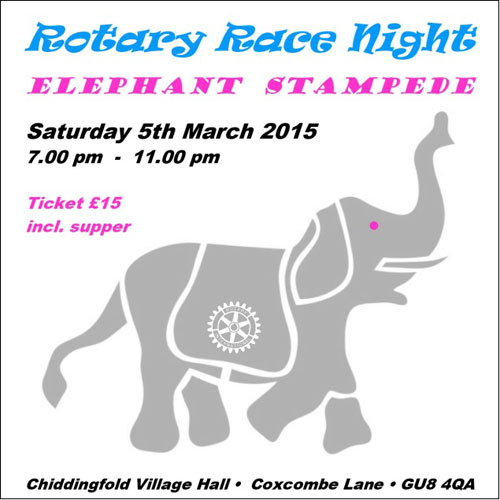 Haslemere Rotary 2016 Elephant Stampede in Chiddingfold
The Rotary Club of Haslemere would like to invite you to an evening of fun and entertainment on Saturday 5th March 2016. The Village Hall doors will open at 7.00 pm to warm up for hand wound elephants, a tote and a bar.
To regain your strength a curry supper will be served mid-evening (vegetarian lasagne on request, please advise upfront). In total seven races will take place.
This year's Elephant Stampede will be in aid of "Global Sight Solutions". The project is an avoidable blindness programme which serves those in India and Africa who are too poor to access their own medical care.
The charity provides assessment camps, surgical equipment and surgeon training such that free eye operations and treatment are available. .

Tickets cost £15 per head

from Mike Jones (01428 683844)

or Jenny Mason (01428 684747).

Haslemere Rotary Christmas Collections Round-up

Christmas in Chiddingfold
---
Chiddingfold Bonfire Saturday 7th November
This year's BonfireYou Tube Tube video of Bonfire Night 19 min 43sec Link to Official bonfire web site
---
September 26, 2014

Pine Furniture Sale Hammond's Yard Hambledon GU8 5HF
Many more interesting items for sale Every Saturday 9 - 4 01428 68 3625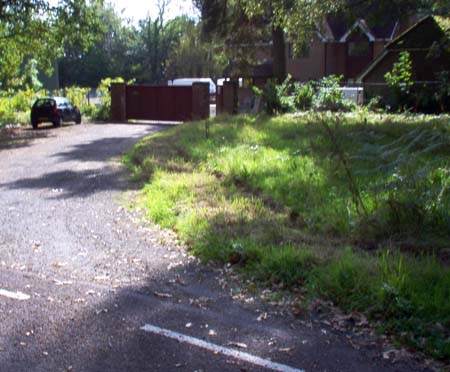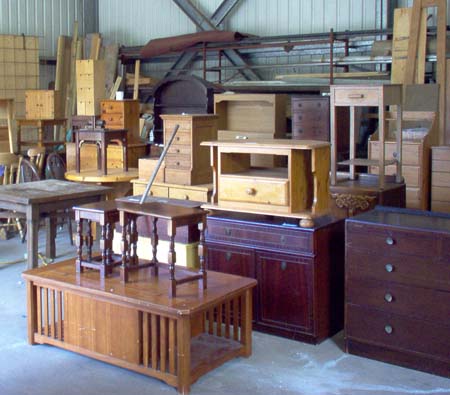 ---
February 7, 2016
Several of the films coming up may be in high demand, so please remember if you want to guarantee your seats for the screening, go to Chiddingfold Post Office to purchase your tickets in advance, and be sure to arrive promptly to ensure you get first pick of the available seats. YOU CAN SAVE MONEY WITH OUR SEASON TICKETS.



Friday, Febuary 19th
A DOUBLE BILL OF DOCUMENTARIES ON RUSSIAN CULTURE AND SOCIETY
Bolshoi Babylon 7:30pm
Running time: approx. 84 minutes
BBFC Certification: PG
Behind the scenes of the world's most famous ballet company,
as it struggles to recover from the scandals and in-fighting that included an acid attack on its Artistic Director.
Red Army 9:15pm
Running time: approx. 82 minutes
BBFC Certification: 15
Through the 1970s and 80s Soviet Ice Hockey was almost invincible, redefining what could be achieved in the sport despite constant government interference.
This fascinating, thrilling and often very funny documentary tells the story of their success,
and what happened to the players after their country suddenly disappeared. Simply outstanding.

Adult Ticket Price £5.00
---
Tickets for each film cost £5 (£3 for children under 15) on the door,
or in advance from Chiddingfold Post Office.
Season Tickets are also available from both locations.
Next Month:
Brooklyn Thursday, Mar 3rd 8:00 pm Cert 12A
Starring Saoirse Ronan as Eilis Lacey & Emory Cohen as Tony Fiorello Romantic drama, nominated for three Oscars. Yes, the lead character's name is Lacey, but I have far stronger reasons for recommending this adaptation of the Colm Tóibín bestseller about a young woman who immigrates to New York from Ireland in the 1950's. Humorous and heartfelt by turns, with unshowy but impressive acting across the board (including some notable supporting performances from Jim Broadbent and Julie Walters). A satisfying and outright enjoyable experience.
∫ ∫ ∫ ∫ ∫ ∫
Save £5 with a Season Ticket. Season Tickets can be used to obtain a discount – we simply stamp three slots rather than the usual one, so a pair of ticket costs just £25. If you don't already have one (and why not?!) then buy one now and take advantage of the £5 saving immediately. We expect demand to be high, so book now to avoid disappointment! For further details, especially any advance ticket enquiries or if you are interested in joining us as a volunteer, please contact Matthew Lacey on 01428 683120, or email cinema.admin@chiddingfold-hall.org.uk That's all for now, hope to see you at a screening soon!

Licensed Bar & refreshments before showing and in interval
A Channel 5 production company came to Chiddingfold Village Hall Cinema on Thursday night, 5 February
to film the Sing-along production of 'Mamma Mia'
The Village Hall Cinema attracted a good crowd from all around Chiddingfold for this performance.
It was a lively evening with lots of singing and even dancing - More
Village Hall
Coxcombe Lane,
Chiddingfold, Surrey GU8 4QA www.chiddingfold-hall.org.uk/
Village Hall
---
November 24, 2011

If anyone phones you up about problems with your computer
Read this
http://forums.moneysavingexpert.com/showthread.php?t=1424731
---
The Air Ambulance service in Kent, Surrey and Sussex costs around £ 3 million annually to stay airborne. Receiving no funding from the Government or the National Lottery the charity is entirely dependent upon the generosity of the public to support the two helicopters, based at Marden and Dunsfold.
October 18, 2011
Two new specialist doctors have joined life-saving charity the Kent, Surrey and Sussex Air Ambulance Dr Magnus Nelson was born in Canterbury, grew up in Wingham and went to Sir Roger Manwoods School in Sandwich. He joins the charity on a six-month secondment from the Royal Sussex County Hospital in Brighton Dr
Mark Salmon joins the trust on a 12-month secondment after also working at St George's where he qualified in 2003.

More on The Air Ambulance
Surrey Air Ambulance is a charity which relies almost entirely on public donations and receives no National Lottery funding.
The helicopter carries a specialist doctor and Critical Care Paramedic who can carry out advanced medical procedures at the scene, giving patients the best chance and quality of survival.
---
International News
What is happening in the middle East!
---
Help needed at Lunch Club!

Could you help us once a month on a Friday?
We are seeking volunteers to help lay tables, serve and clear away for our over 60's Lunch Club
from 10.30am to about 2pm with lunch included.
It is rewarding and friendly and we are happy to work around the school term times.
You are more than welcome to come and see how we do it all with no obligation.
Just contact Georgia on 68 3120 or email for more details.
---

…and finally
If you do run into debt problems, don't ignore them and hope they will go away - they won't.
Get advice as early as possible. See the Citizens Advice website,
www.adviceguide.org.uk on how to tackle debt, or contact Waverley CAB on 0844 848 7969 for free,
confidential, independent money advice.
www.adviceguide.org.uk
---
I've written many pieces in our Parish magazine about our bells;
at St Mary's Chiddingfold
John

.

By now I hope you appreciate that we have a very special legacy in these bells, and I do hope that the village is a much better place for having them. (It would be a very sad thing to NOT have them surely!)

However, I, and the other bell ringers, are mindful that our ringing is intrusive, (loud).
Despite our best efforts, there are occasions when the music is not at it's best, particularly when practice and learners are involved! Whilst we have some sound-control, the sound of the bells does reach parts that other music does not!

So I am asking the village, and anyone else affected, to let me know your views - More
---
About Chiddingfoldnews.org.uk
New Parish council web site www.chiddingfold-pc.gov.uk/ - Click Here
The idea is a local news magazine not in competition with the Parish Magazine
Parish Magazine
The Parish Magazine.
60p per copy, £7 annual subscription
Copy date 16th every month
except December,when it is 11th.
Parish Magazine
Parish council web site
www.chiddingfold-pc.gov.uk/ - Click Here

Neighborhood Policing Local Contact

The Mobile Police Counter will be in Chiddingfold which allows you to access the majority of services available at a police station front counter.
Location The Banking House, The Green,Chiddingfold, Surrey GU8 4TU
A local neighbourhood officer will also be available. More
Don't Panic Chiddingfold does not have
heath / bush fires - Earthquakes - Tsunamis -
Only some parts of the village gets floods
In 1987 the electric was off for 10 days we managed
- More
---
December 3, 2010
For life-threatening emergencies please dial 999.
For immediate help with general local issues please contact the Parish Office:
T: 01428 683906
E: clerk@chiddingfold-pc.gov.uk
For general emergency information, please visit the Waverley Borough Council website -
http://www.waverley.gov.uk

---
To send stories or articles Contact us - see below
Articles preferred as attachments in Rich Text Format &nbsp &nbsp any pictures as separate attachments
Home
News
Music
Contacts
Archive
This Page

Originally what was on at
Chiddingfold Music Club
that web page is just a menu now

For listing music events in the area,
mainly electric rock and blues
for music events

Bands that have been listed here
or are booked in the future
Band details

Contacts is a list of organizations and businesses in the village and phone numbers and e-mail addresses
some web pages

Archive is where the old stories go
Pictures of Events that was news last year